The Easiest Way To Store Your Arsenal
Store up to 9 rifles, pistols and shotguns
The Most Secure Way to Showcase Your Gun Collection

The Easiest Way To Store Your Arsenal
Store up to 9 rifles, pistols and shotguns
The Most Secure Way to Showcase Your Gun Collection

Sturdy & Durable
Built to last while still being gentle on firearms. Made of HDPE, a type of hard plastic that is designed to hold heavy items without warping or wearing. It's also soft enough to protect your firearm surface from scratches or abrasions.
The ModWall 9 Gun Wall is made up of 2 ModWall Panels and different hanging racks and holders. You have the option to put them on top of each other (as pictured), side by side or separately. Position the different accessories according to how you want your display to look like. No matter how you arrange it, rest assured that all your guns are safe and will stay in place.
[watch video below]
See how it works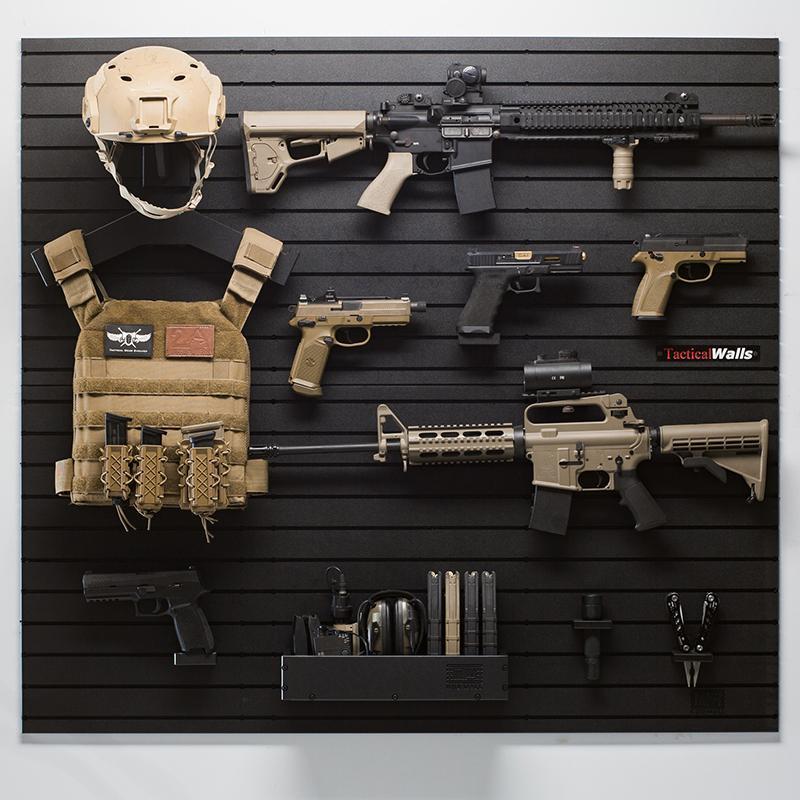 ⭐⭐⭐⭐⭐

My security room is becoming my new man cave!
This tactical wall made a lot of sense. My wife ordered it for me because I complained a lot about how I couldn't fit everything in my safe. Low and behold, this showed up. I didn't get to hang it up for a couple of weeks - work emergency, but I went to the security room in my home where I keep my security monitors and defensive gear and hung it up. I just LOVE how I can now easily grab whatever I need in a hurry. I also love admiring my wall.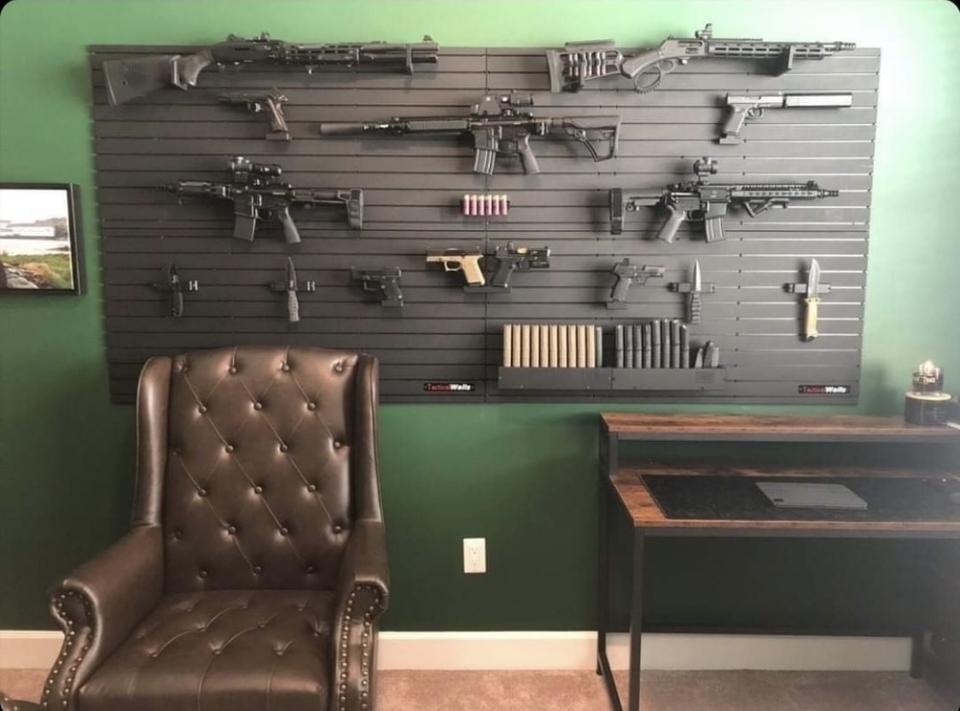 ⭐⭐⭐⭐⭐

Good quality + looks cool
Working in LE means I've developed a personal "inventory" of defensive gear. I constantly worry about my family, especially ever since BLM hit my area. This wall looks super cool, but it also is serving a very practical purpose too. It's super affordable but good quality compared to everything else.
⭐⭐⭐⭐⭐

Life Saver!
I'm in love with the AR hangers. I can hang up my ARs just by placing it on a mock-magazine acting as the hanger. I've got a lot of rifles and this wall has been a life saver. I no longer worry about bumping my rifles on each other trying to fit them all in my rifle safe. 
Get the Modwall 9 gun combo. If you have a neat collection this will save you hassle and make it easier to enjoy what you have.
(2) Modwall Panels that are each 22″ x 48″ x 1/2″
(1) Horizontal Rifle Rack
(1) Horizontal Shotgun Rack
(1) Horizontal Rail Rack
(2) Double-Stack Pistol Hangers (1 left and 1 right pointing)
(2) AR-15 Hangers (1 left and 1 right pointing)
(2) Hide-a-mags
(1) Large Shelf *
(1) Shotgun Shell Holder
(2) Flashlight Hangers
The ModWall 9 Gun Wall is the perfect display wall for multiple rifles, handguns and accessories
Made of high-density polyethylene (HDPE) - strong enough to hold multiple firearms but soft enough to prevent firearm scratches



Withstands abrasive cleaners - cleaning is a breeze
Holds up to 9 rifles, pistols and shotguns
Includes multiple components to hold different types of firearms and accessories
Durable and high quality
Some assembly is required - includes detailed instructions for easy assembly and installation
WHAT OUR CUSTOMERS ARE SAYING
⭐⭐⭐⭐⭐
Looks nice and holds my pistols and rifles sturdily. 
-Vin
⭐⭐⭐⭐⭐
Configurations are endless. I can (and do) change up my layout to accommodate new guns I want to display. I love showing it off to my friends when they visit.

-Jori
⭐⭐⭐⭐⭐

I don't personally use the modwall but I got it for my boyfriend. I've never seen him so excited. He has as ton of guns and has already asked for another one to hold his other ones. Thank you 2A4Life.

-Minnie
⭐⭐⭐⭐⭐
I bought 2. One wall I use for my tactical gear and the other I use for my firearms. This wall is such a life saver for me. Now my firearms and accessories don't have to sit in their cases under my bed or closet. I recommend that every guy who owns more than 5 guns get one. You won't regret it.

-Alex
⭐⭐⭐⭐⭐
The modwall for 9 guns is a steal of a deal. It comes with the mounting wall and all the mounting equipment for firearms and accessories like magazines, flashlights and shotgun shells. Only down side is I feel like I have to dust it all the time, but that's more of an issue with the air in my home. And it's easy to dust off. 

-Matthew
⭐⭐⭐⭐⭐

It's real good. I love my firearms and love looking at them. Any chance I get them out and I love taking them to the range. The Modwall makes coming home from work more exciting cuz I've got my firearms wall. It's like having my own man cave.

-Duy
Frequently Asked Questions
Is this ready to mount or do I need to hire someone to install it?

The ModWall 9 Gun Wall needs some assembly but detailed instructions are included. It also comes with its own installation hardware for reinforced mounting.

Does this require a certain type of surface cleaner?  
No, you can use any type of cleaner and it won't have any chemical reaction. In fact, it can handle abrasive cleaners with ease.
Will it scratch my weapons or other gear?
The materials we use, including the board and the parts that hang up your items are made durable but still soft enough to not leave any marks or take the finish off.
Here's the problem with all of this...
Last Time We Did An Inventory Drop, We Sold Out
Fast
Our Q1 2022 Inventory Is QUICKLY Running Out
Retail Price - 
$556
We have it on sale today
Today's Price - 
$499
But For the Next Hour Get It For Only 
$440 + FREE Shipping