On October 27, 2020, we'll once again observe and celebrate Navy Day.
Although it's just a couple of weeks after the official Navy birthday, Navy Day is a unique holiday where we honor and reflect on the accomplishments of the sea branch of the US military.

In honor of this annual occasion, let's take a look at the top five Navy vets you should be following on Twitter for daily inspiration and hard-won wisdom:

John Ismay
This former Navy EOD is one of the nicest people on Twitter (normally not a very pleasant place to be around!). 
These days, he's one of the most knowledgeable ordnance and explosive experts on the Internet. 

He works with the Times' publication to provide excellent articles and in-depth information about international events and America's military development. 
His stories are both inspirational and riveting.
David B. Larter
A former Navy vet who is now a reporter for patriotic publications, Larter is one of the most positive presences on Twitter.
He's widely liked both for intelligent political discourse and for interesting stories about modern military maneuvers.

He also hosts plenty of inspirational pictures that demonstrate the true awe and beauty of our military. Check out his account if you want to be regularly inspired!

Don Shipley
With a name appropriate for a Navy vet, Shipley is actually a former Navy SEAL, with 24 years under his belt as a Senior Chief of the special forces. 
With tons of badass credentials to show for his time in the military, he now spends much of his time promoting inspirational and hilarious videos on his YouTube channel.

Check it out if you want a daily reality check with some humor mixed in!

Jennifer Marshall
Let's take a look at one of the best lady influencers active today – she's an experienced Navy vet in her own right!
These days, Marshall works as an actress with many major TV shows under her belt, including NCIS, Stranger Things, and more.

But her Instagram and other social media accounts are good for daily comedy and inspiration plus information on Pin-Ups for Vets: a nonprofit organization dedicated to helping America's retired military personnel.

She's also a great choice if you want some behind-the-scenes stuff from many of the shows she's been in!

Jacqueline Carrizosa
A former Navy sailor who served as a rescue swimmer and a gunner's mate, Carrizosa has a lot of experience in the Navy and plenty of wisdom to share.
Beyond that, she's been on several TV shows and uses her social media to promote the Team 5 Foundation: a nonprofit that provides medical care to various countries around the world.

Check out her Instagram for pictures of her sick tattoos, veteran inspiration, and lots of entertaining content.

Of course, there are many more excellent Navy social media accounts to follow, and each of them likely has unique wisdom and inspiration to draw from during tough times, and as we approach the election season.
Let us know if there are any Navy vets you follow that we should add to our list!
Thank you for reading… United We Stand

Justin,
Author 2A4Life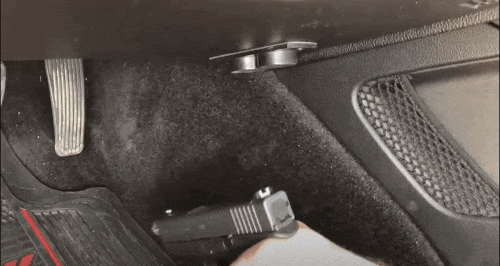 Tac-Magnet